Books
FISH PIE IS WORSE THAN CANCER
A true story of love, hope and rat-like cunning
Book includes a Roadmap for Cancer (our best mental tips and tricks)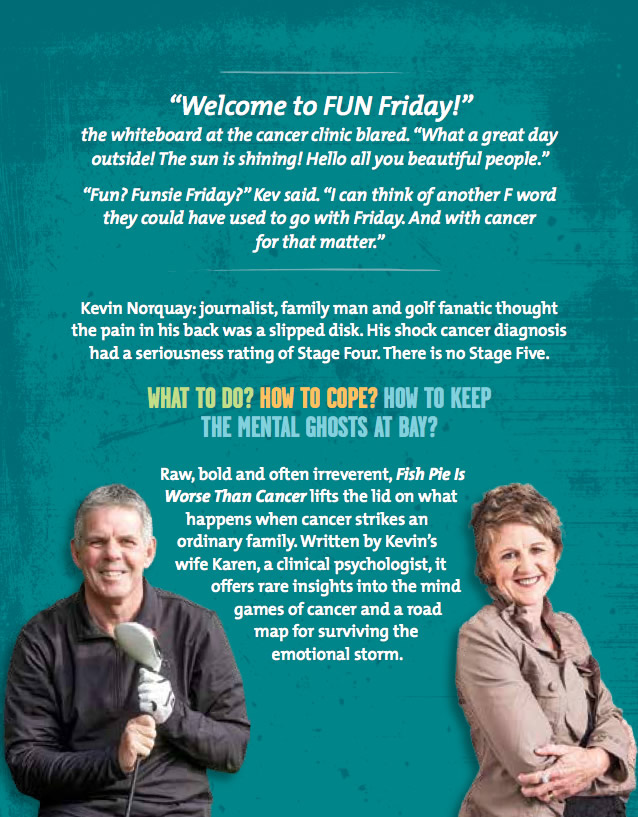 "Brilliant. If you read one book this year,
make it this one. "
Jason Pine, Radio Network
"Inspirational beyond words.. for people going through cancer."
Tim Fookes, Newstalk ZB
"So honest. A cracking read."
Kathryn Ryan, Nine to Noon, Radio New Zealand
Amazon book reviews

A spouse's view of the cancer journey, stepped out with insights, honesty, pragmatism, and practicality, this psychologist and competitor maps the path and the way ahead, tempered with skillful observations, thoughts, and truth, not afraid to show the darkness nor allow the light in; to leave echoes in the mind long after the last page is turned. A refreshing read in a myriad of ways.. a reference for the future in facing life's highs and lows. Well done ….Patrick

This is an excellent read for those travelling the cancer road, particularly if you're in a supporting role. While I had the lead role in one cancer episode, this book written from a supporting role perspective is clear, concise and written in a self-deprecating manner that gives it true authenticity.

Honest and Real. Practical and Pithy. Helpful to remind us all that life is a journey not a destination. Best wishes to all involved as their journeys continue.

The cover of `Fish Pie is Worse than Cancer` says it is a story about love, hope and rat-like cunning. Yes, it is. Yet it is also a story of normalcy, chaos and pragmatism. Karen Nimmo writes in a fresh, breezy style that has you turning the pages quickly. You almost need to remind yourself this is a story themed on cancer, slow down and absorb the apt, expertly articulated lessons and dialogue. The repartee itself is worth the read. Her professional expertise as a psychologist enables Karen to be insightful of her husbands (the patient) emotions, those of her family and friends, and not the least being those of herself. Anyone faced with a major health issue in the family, would do themselves a favour if they sat on a park bench for 2 hours and read this book. It is insightful, informative and inspirational
Readers say….
What a read. Honest. Valuable. Humbling.
Such a good read, well-written, heartfelt and funny. This will be a wonderful resource for our journey. Thank you.
Book read from cover to cover in one sitting. Cathartic. Authentic. Honest. Courageous. Human.
Can't put your book down…funny and tragic.
I love your book. Warm, funny, honest and moving.
An excellent book. Can't recommend it enough.
Thank you for an amazing book,for writing something that can help people mentally and emotionally when doctors are trying to help in other ways.
A wonderful book.
Articles
When cancer hits home – Stuff.co.nz
What do you do when cancer strikes? How do you keep the mental ghosts at bay?
Finding the mental toughness to cope with cancer – Radionz.co.nz
Newswtalk ZB radio interview part 1  part 2 – Radionetwork.co.nz
Book extract
THE GOLFER
Kev's most challenging round began on a clear morning in winter 2012. Looking back, we should have known it was serious. Shoving anti-flam capsules in your anus to get through 18 holes of golf isn't what most people do on a Sunday morning.
Kev was a golfer, hooked on the game since he first swung a club at the age of forty. Rain, sleet, howling Southerlies, he played in them all. When frost dusted the fairways, he switched from a white ball to a coloured one so he could still see where it landed. When none of his regular buddies were available, or when they bailed due to storm warnings, he played by himself.
"Surely not today," I'd say, drawing the duvet over my head as rain hammered on the roof.
"That's what I have wet weather gear for." He'd pull a rain slicker over his head and bang the front door behind him.
I liked a round of golf but I didn't feel it like Kev did; it didn't make my heart thump. He said he was chasing possibility. The chance that every time he stepped out on a course something incredible could happen.
Every game is a story, he said. "Every hole is a chapter, every ball a page. You just have to let it unfold." It was the nearest he got to philosophy.
Then one Sunday the front door didn't slam.
When I got up I found him down the back of the house in the half light, sitting gingerly on the edge of the couch and flicking through a golf magazine.
"My back's a bit sore. I might take it easy today."
He turned sideways, lifted his legs slowly up onto the couch and eased back against the cushion. His normally tanned face was pale beneath dark stubble.
I drew up the blind in the living room. The grey light revealed a clear, windless morning. Perfect golf conditions. Over on the couch Kev had his eyes closed. His magazine had fallen onto the floor.
That's when I felt the knot in my stomach fan into fear. What's really going on? I thought.
It began nine months earlier with a twinge in his back. A twinge, which morphed into a stabbing, lingering pain that for medical insurance purposes we wanted to claim as an accident, except there hadn't been an accident. There was no trauma, no strain, no clear point of origin. It was just a dull ache that roared up then receded like the tide, tricking us into thinking it was simply the product of a dodgy golf swing.
He went to a doctor. Then another. He had examinations. He had x-rays.
Nothing.
Bad posture, possibly. A high pressure job. An office chair with poor ergonomics.
He did core-strengthening exercises with anatomical names: the single-leg abdominal press; segmental rotation; quadruped extension. We renamed them, laughing: The Alligator Roll. The Flamingo Stretch. The Bonking Dog. The pain went away. Then it surged back, white hot, forcing him to pace the house through the early hours of the morning. Some nights he couldn't lie down, snatching sleep as he sat upright on the sofa.
"It's nothing sinister," one back specialist said, inhaling $300 and rubber-stamping a few sessions of physiotherapy. "Poncy git," Kev said, dismissing the specialist's manner and his findings. "I was just another wallet walking in the
door."
But something was wrong. He was tired all the time. He fell asleep between arriving home from work and dinner. Then again after dinner. He began to cough, hacking like 15 an old man in the mornings, a dry bark that wouldn't shift. At night he'd sweat, not always, but his pillow gradually stained yellow. His stomach burned with acid reflux.
More medical appointments for symptoms that played Hide n Seek, each of them daring each other to present at the same time to fill out the picture. They refused: as his stomach problems flared, his backache retreated. The cough and sweats came and went, mounting fatigue was pinned on the demands of a stressful job and our busy lives.
Then one Saturday he went for a walk, a test for leg muscles he kept saying were losing their power.
"I'm wading through cotton wool," he said, stumbling in the door. "I can't feel my feet hitting the ground".
The next day he couldn't stand up long enough to poach eggs. He tripped on a cushion lying on the floor because his feet wouldn't obey his brain's orders to lift them. Extra- strength painkillers couldn't stifle the pain in his back.
Even then, the registrar at the emergency orthopedic clinic indicated he was being dramatic, yanking and twisting his legs, applying pressure to his back until he gave in.
"Argghhhh," Kev let out his breath. I jumped back, startled, he was normally uncomplaining about pain.
"It's not life-threatening," the doctor said, crouching in front of us, yawning. "You just need to manage your pain medication better. Here's some codeine, take it regularly. Come back if it gets worse."
He ripped a sheet off his prescription pad, stood up and turned away. Kev and I stared at his back wondering how 16 we were going to get all the way down to the car park.
By morning I had to help him out of bed.
He winced with pain as I eased his shoes on. I floored the accelerator through the city to get to Wellington hospital. In the Accident and Emergency wait room, I called my clients for the day and cancelled their appointments. "Small family emergency," I said. "I'll be in touch to reschedule."
"Fine with me," said one woman, who had been addressing her procrastination issues in therapy. "I'm happy to put things off for a while. Take all the time you need." She laughed at her own joke and I smiled.
"Kevin Norquay," the nurse called, and I forgot all about work.
In the examination room, people wearing navy blue scrubs were walking faster, talking faster. There were more tests, bloods and urine, x-rays, rapid sign-off for expensive scans, spinal taps, probes.
More doctors, each wave of a higher rank than the previous one. More questions. An uneasy feeling they were showing way too much interest for it to be a slipped disc. Must be a really complicated nerve compression, we thought. Or perhaps a bone problem?
The diagnosis came at nightfall.
The lights in the ward had been dimmed; Kev lay alone in his hospital bed, heavily dosed with pain medication. As his eyes shuttered, a doctor he had not seen before appeared in the doorway of his room: a young man in a long white jacket, unshaven, pouches under his eyes. He wore a hospital identity tag but he didn't introduce himself.
He didn't mention cancer. He just stood at the side of the bed and threw all the other scary words together in one sentence.
"Tumour…malignant…spine….paralysis."
Then the kicker: Secondary. The medical way of saying the cancer had spread.
For a few seconds Kev wondered if it was all some kind of sick joke.
It wasn't. A joke would have been welcome.
 The doctor left.
 Kev fell back on his pillow, the course of his life forever altered.